Colin Crawford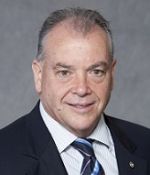 Colin Crawford
Franchising
Contact: 0425 838 800
Email:
FRANCHISING
Colin enjoys assisting people purchase a business to achieve their financial and family security. They could be a purchaser buying their first business with limited capital, or a seasoned business owner looking for a new challenge or to exit their current business for retirement.
Specialising in selected franchises and hospitality including supermarkets, Colin's wealth of experience enables him to guide business owners and purchasers through the selling and buying process from the initial inspection through to settlement.
Having owned and managed a franchise and business strategy company, Colin is well aware of the key skills required to build a successful individual business or a national network. His company was involved in developing the Optus World franchise, the Shell and Coles multi-site business model, through to appointing franchisees for Gloria Jeans, RACV, United Home Services, Subway, ABS Auto Brakes, Nutshack franchise chain and many, many more.
One of Colin's achievements involved the national roll out of a vending machine operation that required the recruitment of licensees to exclusive territories throughout metropolitan and county districts across Australia, from Perth to Cairns. Recruiting licensees raised several million dollars for the licensor and generated an ongoing income stream. Colin knows what it takes to recruit franchisees and assists business owners to achieve their national expansion plans.
Colin has also been a director and adviser to client companies ranging from general engineering, renting equipment, commercial and residential maintenance, food/hospitality retailing, automotive mechanical repairs and general retailing.
Give Colin a call on 0425 838 800 to assist you with your business future.